On April 19, 2018, Beijing time (morning 0f April 18th, Germany local time), Mr. Peter Lin, the founder/ Chairman/ CEO of ZCSTC, and Mr. Thomas Bets, the Chairman and vice president of Muhlbauer GmbH & Co. KG, jointly signed a Strategic Cooperation Agreement. Both parties will work hand in hand to develop a comprehensive strategic partnership and cooperation in the development of Chinese Smart Card, RFID, E-Passport, software, and "One Belt and One Road" government projects. Moreover, ZCSTC and Muhlbauer have reached an intent to speed up the establishment of a joint laboratory and to develop a high-speed photo printing system. Thus far, ZCSTC has imported the first-class technology and equipment from Muhlbauer. With these technology and equipment, ZCSTC will be able to start building an international high-end intelligent manufacturing base of microelectronics, internet of things (IOT) gadgets, and civil-military integration products in Dongguan Songshan Lake High-tech Industrial Development Zone; Paving the way to break through the technology barrier on China's high-end intelligent manufacturing.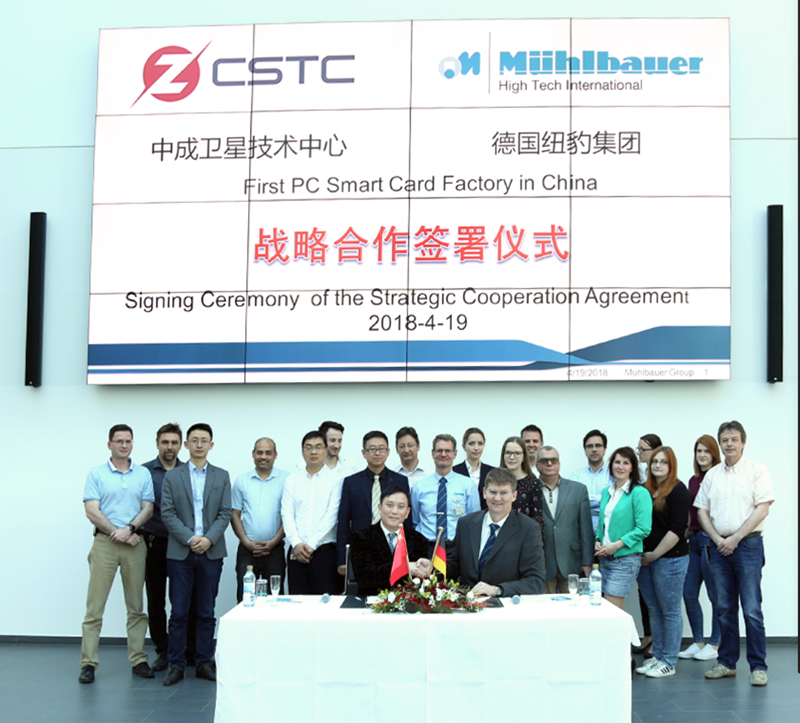 Under the circumstance of the US imposing technological blockade and setting severe barriers on China's high-end manufacturing, CEO Peter Lin of ZCSTC has made a business trip to Germany negotiating and establishing strategic partnership with Germany Muhlbauer Group. It will open a valuable new window for China's high quality manufacturing. Muhlbauer GmbH & Co. KG is the world's largest independent supplier of automatic production equipment for the manufacturing of high-tech smart card, intelligent RFID tag, downstream products of semiconductor materials, and so on. In addition, it is the only company worldwide that provides fully automatic production solution of RFID tags, accounting for more than 80% market share. ZCSTC and Muhlbauer will facilitate the establishment of an industrialization base of IOT, RFID, and critical equipment, in order to become the role model to transform and upgrade China's IOT industry.
RFID industry is one of the core industries of IOT that can be widely used in the systems of transportation, health care, food and drug safety, emergency logistics, real-time item tracking and information sharing on a global scale, which significantly improves operational efficiency and lowers costs. The machines and equipment purchased from Muhlbauer include world leading RFID tag production line, fully automatic high-end ID card production line, and fully automatic digital offset press production line. The annual productivity of high-end ID card can reach as many as 100 million pieces from chip bonding to tag compounding, which satisfies the demands for high security, high strength, high accuracy, low carbonization production of smart cards and RFID tags on a large scale.
Regarding the international cooperation, Mr. Lin, the founder/Chairman/CEO of ZCSTC, confidently predicted that in the next 10 years, ZCSTC will be committed to creating a globalized high-end intelligent manufacturing comprehensive supplier of microelectronics IOT and a value-added service provider based on company's principles: "putting people first, developing leading technology, maintaining highest quality, practicing efficient management." On this basis, the company will focus on the goal of "strengthening core competitiveness", integrate internal and external R&D resources, build up independent innovation model, optimize the technological innovation process, accelerate to establish the testing and certification center of IOT RFID product applications with government authorities, and keep strengthening key technological advantages of dual-interface smart card chip, RFID tag, and card reader. ZCSTC will develop high-end intelligent manufacturing and quality benchmark by focusing on "scarcity, value, and quality", promote the refinement of production process, lean management and elaboration of customer service, aiming to establish an advanced, market attested, world-renowned brand of high-end intelligent IOT manufacturing, while consistently improve the brand value of ZCSTC.