On January 12th, ZC Group's Chairman Mr. Peter Lin visits the "Sanya Big Data Center" in Hainan after attending the "Second Wuzhishan Forum on the Combined Medical and Nursing Services" and achieved positive results in exploring the value chain of the healthcare industry through government-enterprise cooperation.
Accompanied by the chairman of Sanya Info Tech Investment Co.,Ltd (one of the operators of Sanya's big data center), Mr. Mao Dingyuan, Chairman Lin visited the big data operation monitoring center and data center computer room and listened to the construction of big data center and introduction to data application planning and other aspects. The Sanya Big Data Center is equivalent to the construction of a "central nervous system", which has extended the "nerve endings" to municipal management, social governance, traffic safety, convenience services, and precision poverty alleviation, which has been highly praised by the party and the state.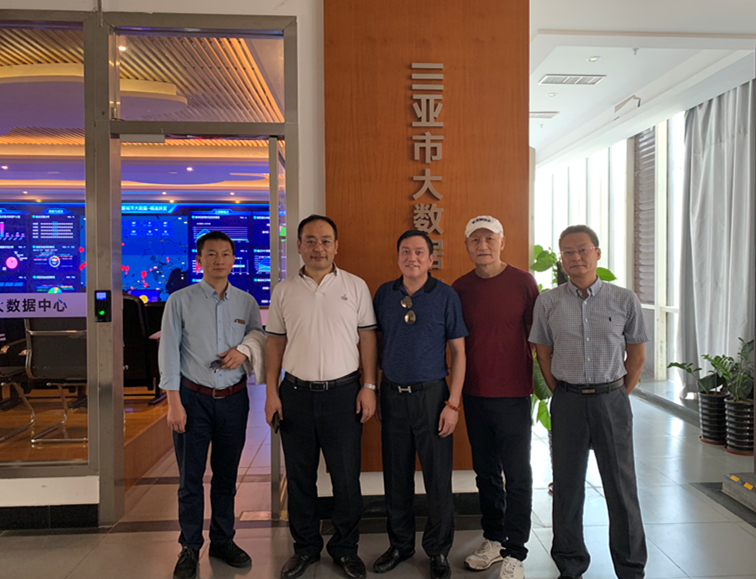 Chairman Mr. Peter Lin (middle), pictured with President of SCFC Mr. Xu Xin (second from right), are visiting Sanya Big Data Center. Accompanied by Dr. Mao Dingyuan (second from left), Chairman of Sanya Info Tech Investment Co.,Ltd.
During the visit, Chairman Lin discusses on the feasibility and technical difficulties of big data and the landing of smart city with relevant personnel. He exchanged opinion with Dr. Mao Dingyuan, the Chairman of Info Tech Investment Co., Ltd and the Sanya Big Data Center's Person in charge on key issues such as the interconnection sharing and co-construction of government affairs big data and enterprise, and cooperation of government and enterprises to improve the health industry chain, and reach broad consensus.The principal of the Sanya Info Tech Investment Co., Ltd and Sanya Big Data Center believes that under the background of vigorously implementing the strategy of healthy China, he is full of confidence and expectation to promote cooperation with ZC Group's Healthcare Big Data Platform. The leaders of the three parties agreed to strengthen coordination, actively cooperate, actively promote, fully gather the advantages of the government and enterprises, realize the full sharing, exchange and integration of big health data through joint participation in the construction of Healthcare big data platform, strengthen the deep mining of the value of big health data information, focus on integrating and opening up the isolated island of big health data as soon as possible, and find a new way to build a safe, environmental friendly, convenient and comfortable intelligent health care, medical and ecological industry chain based on big health data and seamless connection between enterprises as soon as possible.